The 1st Extra Ordinary General Meeting (EGM) of Taufika Foods and Agro Industries Limited held on 24th May 2021 through virtual platform.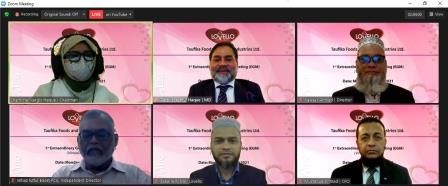 'Taufika Foods and Agro Industries Limited' is now 'Taufika Foods and Lovello Ice-cream PLC'. Share Trading Code to be changed as "LOVELLO" soon.
In the EGM the shareholders approved the amendment of the company's name from Taufika Foods and Agro Industries Limited to Taufika Foods and Lovello Ice-cream PLC.
Taufika Foods and Agro Industries Limited is engaged in the business of manufacturing and distribution of ice cream since 2016 under the brand name of "LOVELLO' which has now, become a very popular ice cream brand in the country. After starting the journey as a private limited company, from 8th July 2019 it was converted into a Public Limited Company. Upon approval of the Bangladesh Securities and Exchange Commission (BSEC) for IPO on 15th October 2020 the company started up its share trading at DSE and CSE on 10th February, 2021 under 'N' category in the name of "TAUFIKA".
The EGM was presided over by the Chairman of the Company, Datin' Shamima Nargis Haque.
Referring to the issue of change of the name of the company, Dato' Engr. Md. Ekramul Haque, the Managing Director said "in the share market the old name was found to be confusing for general investors. They could not relate that this is the company that produces and distributes the famous LOVELLO Ice-cream. The new name 'Taufika Foods and Lovello Ice-cream PLC' will remove the confusion to relate LOVELLO ice cream with the company. We strongly believe that, the brand name LOVELLO truly represents the company's potential in the stock market". He also added that, LOVELLO has the target to become a blue-chip company within next 05 years.
The meeting was attended, among others by Engr. Kawser Ahmed, Director of the company, Mr. Imtiaz Lutful Baset FCMA, FCA, Independent Director and the Chief Financial Officer. Company Secretary, AKM Zakaria Hossain FCMA conducted the meeting. A large number of shareholders also attended the meeting through virtual platform and given their consent in favor of the agenda along with a lot of positive comments.